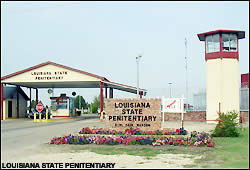 17544 Tunica Trace
Angola, LA 70712
P:1-225-655-4411
USAVISITING INFORMATION
The Administration of Louisiana State Penitentiary views visiting as a vital aspect of the inmate's rehabilitation process. This connection to family and friends allows the inmate to make a smooth transition to prison life and help him adapt to society and family life if ever released back into society.
WHO CAN VISIT
Upon his arrival at Angola, an inmate must submit a list of individuals with whom he would like to visit. Once this list is approved, only the visitors who appear on the inmate's current approved visiting list can visit. Children under the age of 15 can visit but must be accompanied at all times by an adult listed on the inmate's approved visiting list.
VISITING DAYS/HOURS
Visiting days are Wednesday through Sunday from 8:00 a.m. until 3:00 p.m. Visitors should plan their arrival prior to 1:30 p.m. at which time the visiting bus makes its final departure to the visiting area(s). Please note that on the rare occasion when there are five Sundays in the month, there is no visiting on that Saturday or Sunday.
LENGTH OF VISIT
Inmates assigned to non-restricted areas are granted a four-hour visiting period on weekdays (Wednesday, Thursday, and Friday) provided that there is sufficient space and staff availability. Inmates assigned to restricted areas are granted a two-hour visiting period. All inmates are granted a two-hour visiting period on Saturday and Sunday.
NUMBER OF VISITORS
An inmate is allowed ten (10) approved visitors plus one (1) religious advisor on his list. Each visitor on the approved visiting list will be permitted to visit twice a month.
IDENTIFICATION
All approved visitors must have in their possession a picture ID (valid state issued driver's license or state issued ID card obtained through the Department of Motor Vehicles).
OTHER ACCEPTED FORMS OF PICTURED ID
Passport, Military, Law Enforcement, College/University.
Louisiana Inmate Phones
________________________________________
Inmates are offered reasonable access to telephone communication.
Department Regulation No. B-08-001 allows for each inmate to have an approved master list of up to twenty (20) telephone numbers for family, personal, and legal calls. The list can be updated at least quarterly.
If an inmate attempts to dial any telephone number not on his/her approved list, the call is blocked. Additionally, certain categories of calls such as 311, 411, 911, 1-800, 1-900, 10-10-XXX, etc. are automatically blocked. Individual telephone numbers can be blocked as well.
Inmates can make only collect calls. The inmate telephones are limited to out-going calls only. No one can make a call to an inmate telephone. Except as authorized, inmate telephone calls are limited to fifteen (15) minutes.
When an inmate makes a call, the called party is notified that it is a collect call from an inmate at a state prison facility. The called party is given the option of accepting or refusing (by hanging up the phone) the call.
Because our inmates are assigned to work, only fifteen (15) percent of the inmate telephone calls are made during the day hours.
Eight-five (85) percent of all calls are made during the evening, night, and weekend hours.
The inmate telephone call rates are fixed in the contract. The rates can be lowered if mandated by the Louisiana Public Service Commission or the Federal Communications Commission but never raised even if a tariff increase is approved by either agency. These same rates have been in effect since July 1996 under the previous contract.
Telephone communication access is provided by an outside vendor via a state contract. In February 2002, the Office of State Purchasing awarded the contract for prison pay telephone service to MCI/WorldCom. It is a five-year contract expiring in January 2007. The contract can be renewed for two (2) additional twenty-four (24) month periods at the same prices and terms.
MCI/WorldCom recently announced a change to its billing procedures with local telephone companies. Starting January 2003 any customers of local telephone companies that do not have a billing and collection agreement with MCI/WorldCom can no longer receive calls from inmates in our facilities.
MCI/WorldCom has set up a toll free number 1-866-770-4896 for assistance.
The change impacts mostly small rural local telephone companies.
Bell South and Century Telephone customers are not affected by this change.
The contract calls for a toll free customer service number for assistance with billing issues, problems receiving calls from an inmate, receiving unwanted calls from an inmate, requesting a block on future calls from an inmate or inmates.
The company's toll free customer service number is 1-800-231-0193.
Upon reception in HRDC inmates are provided with a telephone request list in which he will be able to place up to 20 names to be put on the approved phone bank.
Changes are only allowed on a quarterly basis.
HRDC inmates will be allowed to make one (1) phone call per week after assignment to HRDC for one week.
EHCC inmates will be allowed to make phone calls according to their work schedule and current assignments and within the following phone schedule in the inmate dormitory:
4:30 p.m. to 10:30 p.m. Monday through Thursday
4:30 p.m. to 12 Midnight -- Friday
8:00 a.m. to 12 Midnight -- Saturday
8:00 a.m. to 10:30 p.m. -- Sunday
7:00 a.m. to 11:30 p.m. -- Off Duty Workers
1:00 p.m. to 3:30 p.m. -- Off Duty Workers
All telephone calls are limited to 15 minutes.
Phone calls are subject to being monitored and/or recorded. "Use" constitutes "consent".
It is the inmate's responsibility to advise all other parties that conversations are subject to being monitored and/or recorded.
A properly placed telephone call to an attorney will not be monitored and/or recorded.
The telephone system will terminate calls at the end of 15 minutes.
The system will automatically broadcast recorded messages that the telephone call is originating at an adult correctional facility.
Mailing Address:
General Delivery
Angola, LA 70712
Phone Number: 1-(225) 655-4411

---
Permissions in this forum:
You
cannot
reply to topics in this forum